Having spent time and money getting here, we anticipate rewards, satisfactions, and opportunities to advance. What happens when those expectations are frustrated? How do we cope with the disparities between our imagined career and its harsher reality? "The Hero's Journey" explores the thin border that separates reality from illusion in a legal career.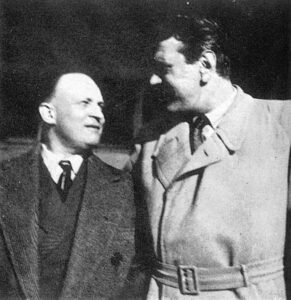 Two "heroes," Nazi commando Otto Skorzeny and British underground agent Forest Yeo-Thomas, were familiar with that thin line. As top-tier military operatives, they were forced to ask themselves: "What is my price? Is winning more important than the integrity of my character? Will I do anything to win?" They chose the path of integrity—a choice that united two men who could not have been less alike in every other way. Their saga provides a vivid reference for our examination of a career in law.
During the war years, Yeo-Thomas and Otto Skorzeny knew one another only by name. It was not until 1947 that they met face to face: a courtroom on the grounds of former concentration camp Dachau, where Skorzeny stood trial for his life before a tribunal of the U.S. Third Army. Yeo-Thomas had been tortured nearly to death by the Nazis, yet he appeared in court to speak on behalf of his former enemy. Theirs became one of history's most unexpected friendships and one that raised troubling questions about the rightness and wrongness of behavior under adverse conditions.